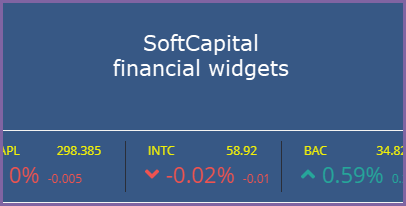 SoftCapital releases today a complete set of financial widgets for easy implementation by 3rd parties to their or clients websites.
Example:
We are releasing the following financial widgets.
Financial news widget
Ticker tape widget
Ticker
Chart widget
Market quotes widget
Portfolio widget
blog:

All widgets can easily be embedded on any website and CMS system like WordPress, Typo3 or Joomla in less than 5 minutes.
A variety of realtime feed sources can be used or the user can embed own feeds via our API.
Try the widgets directly:
...
Continue Reading →